Wide Mouth Concert Reviews
Sunday, October 12, 1997. The Cafe du Palais in Sherbrooke, Quebec
At the Cafe du Palais...
We went inside and saw that the area around the stage is very small. It has a low ceiling, the stage is only 6 inches high and they have tables pressed right up against it. So we took a couple and had some beer. They serve these huge bottles that are about 3 times the size of a normal beer. and they only cost 50 cents more! (about 4.25 i think.)
Eric Maheu opened up again and was pretty good. He is well liked all across Quebec i think. He is not super popular yet (much like wmm) but everyone says good things about him. The crowd was pretty good with singing along and clapping but no one got out of their seats.
Then some other friends showed up and when WMM came out we cleared some tables away for some dancing room.
The show was pretty good. I really don't think anything could compare with the night before(at the Equinox) but they made it worth the trip. Shaun did some really interesting things with feed back.
During My Old Self, he was using the side of his amp as violin bow against the strings, then he used the pick-up mic that was attached to it to slide along the strings. I asked him about that later (backstage)
I thought the crowd might have gotten scared between Saf's screaming Urdu lyrics and Shaun's crazy antics but they really seemed to like the show. The crowd was pretty good for clapping and getting into the show and a couple of girls that were sitting near us got up and danced too. At the end of the show the applause must have been very gratifying for the band.
Not bad considering WMM had never played in Sherbrooke before.
---
Saturday, October 11, 1997. The Equinox nightclub in Montreal
words cant describe how great this one was.
ok ill try.
A lot of people were there listening to the opening act . His name is Eric Maheu. He has a 3 piece band with bass/vocals(Eric), guitar(pretty good) and an extra guy that looks like George Castanza and plays guitar, harmonica and keyboards depending on the song.
Not too bad. You wouldn't believe the crowd. They were dancing around like crazy. That picked right up again not long after WMM took the stage. The enthusiasm wasn't hurt by the fact that there were lots of people from Saskatoon in the bar. I even recognized one of them! I'd never met her before but i noticed a resemblance between her and a girl I'd met at toronto shows who was originally from Saskatoon. Turns out that they are sisters. Pretty impressive of me eh? Well I have an eye for pretty young ladies you see.
Saf says that Saskatoon is most famous for exporting people to other places. It seems that he's right.
As for the show...
The show rocked. I can't put it any other way. It was an absolutely cosmic experience. The sound was beautiful. Paul had a one-in-a-million night as sound man.
The vocals were crystal on all three mics, the bass was nice and fat, the drums always sound great and Shaun's guitar was clear as a bell. The rythem section was just smokin! Saf turned the show into a seismic event with his drum kit and Earl's bass was breathing fire.
They played some good music. I'd say the highlights of the show were Tom Robinson medley-ing (i CAN SO make up my own words) into Natty Dreadlock featuring Saf on vocals) and a truly inspired rendition of Superstion. The bass solos in that one blew me away. Hopefully you will be able to hear that one on a live CD someday.
Also worth noting was the river song. Some people were doing some interesting hand-claps which sounded really cool against the acoustic guitar.

The show was ended with a quality serving of So Lonely and Mr Wendel. It was Wide Mouth's first time headlining in Montreal and the crowd loved it.
Me too!
---
Friday, October 3rd. U of T, The Hangar.
The Jessica Schoenberg Band opened up the show. This was the first time I had ever heard their music. Jessica puts on an energetic show and you can tell she's really having fun on stage. Overall I thought she was pretty good and the show was worth coming early for.
I'm sure I would have enjoyed it more if the PA at the Hangar didn't suck. The vocals were muffled and drowned out by the guitars. I didn't know the words to any of the songs and it was very hard to understand what she was singing.
This didn't stop Jessica and her band from giving a good effort and putting on a very strong opening set. When they went on there was only (literally) a few people around but when The Jessica Schoenberg band left the stage there was a good little crowd around the stage. This is pretty impressive when you realize that there was probably never even 100 people in the whole bar all night. Even Wide Mouth Mason only had 40-50 people standing near the stage during their show (I counted).
Speaking of Wide Mouth Mason, Jessica said this on stage:
"So... Wide Mouth Mason. Are you guys ready? Are you ready for a party? Cus that's our job: To get you ready. We're the foreplay. It's a dirty job but someone's got to do it."
And they did a fine job too.
It actually was a dirty job because Toronto crowds can be kind of hard on bands they've never seen before. Everyone just stands there with arms crossed and thinks things over. But it's safe to say that Jessica won everybody over with her incredible STAGE PRESENCE and enthusiasm.
I talked to her after the show and she gave me some of these cool little stickers. Why doesn't somebody make a WMM sticker like that huh?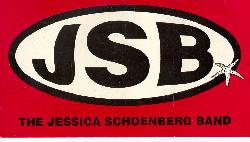 This is a link to the JSB site. I'd never seen it until I put the link on this page and I just had to come back and add that it is a GREAT site! Check it out ....but then come back again ok?
Then Wide Mouth Mason took the stage.
The guys in the band were a little dissapointed with this show. Bad publicity and promotion resulted in a small turnout. Also crowd participation was a little lacking partially due to small numbers but also because of the fuzzy vocals. When Earl asked everyone to clap their hands along with Shaun's guitar as he is often want to do...
You couldn't understand what he was saying unless you were close enough to hear him talk without the mic ie front row or on the stage.
This was not the fault of Paul, SOUND MAN EXTRODINAIRE, it was the lousy PA and the guy at the mixing board actually fell asleep during the show. Saf had to call Cameron over to wake the guy up so he could turn up the gain on the bass which was too low.
These were really just minor details however because it was still a good show. I really enjoyed myself as did everyone that was there. It was kind of a laid back atmosphere. Security was non-existant. The bouncer standing at the stairs to the front of the stage had a friend stand guard while he went to check if he could take the night off. It was funny to watch him do charades with his buddy when he came back to let him know that they could go have a beer. As he left he told someone in the audience, Media(how am i supposed to spell that please?) i think, not to let anyone go onto the stage. If you don't go to the Toronto area shows and don't know who Media is then just take my word for it: she's pretty small.
Shaun remarked on stage that it felt like they were playing in somebody's living room.
While Earl just asked "And what's up with THESE?!"
He was reffering to some incredibly bright spotlights shining at the front of the stage. They made it real nice for taking pictures I guess but they were shining right into Earl's eyes which he didn't like.
One of the things that made this a good show was that they played some of the songs that they don't always play and aren't on the albums
Natty Dreadlock, Sugar Cane 1968, Indecision, Crystal Ball, and two other songs which were on the set list as
???? and OLD
I think one of them is the song that goes "Oh Mother, I cried all night long."


"Oh Mother" (that is the "~official~" title) was the highlight of the show. Shaun was really in the zone on this one. Excellent guitar playing and singing.
They finished the show off with a very nice rendition of So Lonely/Mr. Wendel.
If you live near Toronto and didn't go to the Hangar on Friday October 3rd, then you missed out on a good show.
Click HERE to see photos from The Hangar
---
Wednesday, October 1st. Sir Wilfred Laurier University, The Turret.
Unfortunately I couldn't make it to this show but
here is a review from the online version of Laurier's newspaper, The Electric Cord.
if anyone has photos or would like to write a review of this show please email me.
---
Wednesday, September 17. The Joker Nightclub, Q107 Private Party.
Translation:
One GREAT TIME!
This was a private thank you party that Q107 threw for it's clients. I was fortunate enough to be there. Musical guests were Powderfinger(from Australia), Wide Mouth Mason and Junkhouse. The bar was open, food was served and drinks were free!
WMM went on after Powderfinger sometime around 10pm. The masons were in fine form as they performed our favourite music for us. They were on stage for just over an hour which was long enough for them to work the crowd into a happy excited groovin mood. This is no mean feat considering the audience was filled with music industry types that were used to seeing fabulous live acts and were more apt to think: "Hey these guys are pretty good. I bet I can make some MONEY off them" as they watch the three dollar $ign$ perform on stage.
The band suffered some technical difficulties during My Old Self. Somewhere along the maze of patchcords, pedals and powercables to Shaun's guitar something bought the farm and Shaun was without juice so to speak. A tribute to their maturity, professionalism and talent, the band played on.
It was interesting to hear the song(my favourite one as if you didn't know) played sans guitar. Earl usually plays that number pretty mellow or at least he does compared to how he played it this time. Some people have a hard time hearing the bass between the drums and guitar (not to mention vocals) so it was a nice chance to showcase Earl's talent.
Usually the only time you hear him on his own is when he's playing a solo. But this time he was playing the song along with Saf's drums and Shaun's vocals and it sounded great. They got Shaun's guitar working before the song was over and they finished it off very well. The only complaint I have is that I thought that Saf's mic could have been tuned up a little better, I thought it was a little far back in the mix and we should have been able to hear him better.
Click HERE to see photos from the Joker
---
September 11, 1997: Mohawk College
Anyone who didn't see Wide Mouth Mason at Mohawk College on Thursday, September 11, 1997 missed a fantastic show!
"Tonight I am proud to present: from Warner/Atlantic, Wide Mouth Mason!"
....And Wide Mouth Mason began to play. As they stormed through their opening song (Tom Robinson), the band bled energy. The atmosphere was electric. Smoke seeped out from behind the drum kit as the stage actually shook beneath the drums and the strain of Shaun, Earl and their guitars as they jumped, danced and stomped across the stage.
The band exerted(sp) a tremendous effort for one hour and fifteen minutes non-stop as they ripped through their entire set. They pulled out all the stops and played all the favourites. WMM executed a brilliant performance that included a stellar, extra funky rendition of Stevie Wonder's Superstition and a super extended medley of The Police's So Lonely and Arrested Development's Mr. Wendell.
WMM had only ever played in Hamilton once before this date, about eight months earlier so they wanted to put on a special show for those seeing them for the first time. I'm sure no one was dissapointed, I know I wasn't.
Here is the article that was printed in the Satellite newspaper.
Click HERE to see photos from Mohawk College
---
Sept 5, 1997: UofTD
This cartoon was originally run in the University of Toronto paper: The varsity. I don't know who the artist is.
On Sept 5, 1997, WMM played a frosh week concert at UofT that also featured Lindy, Dayna Manning and the Mahones.
After some confusion about weather they should start or not, WMM opened up with two good songs. Then during the song they were trying to promote as they had just released the video for it, (My Old Self) the power was cut off from the main PA.
Apparently the president of the university (Robert Pritchard) ordered the shut down so he could let the cameras roll on the president of TD while he delivered a sales pitch for his bank's services to the students. Suspiciously, TD is a big contributor to the University.
The biggest evil here is the lack of manners displayed by Pritchard. It's understandable that the orginization of such a big event might not go exactly as planned. It's understandable that the president of TD is a busy man and he'd paid a lot of money to get the students' ears for a few moments. But what is not understandable or acceptable is that Pritchard did not explain matters to the band (or to the students for that matter), he did not apologize to the band or the students and it makes me wonder if he apologized to Charles Baillie (the president of TD).
Not only did he RUDELY interrupt the band while they were performing he didn't even have the decency to wait until the end of their song. Later in the press , he defended his actions without an apology, stating that "I believe the vast majority of members of the university would share in my view"
I believe that Pritchard is an idiot especially if he believes his own BS. I can't believe that he somehow managed to become president of a university when he has no tact, common sense or regard for the students.
Here is a
picture and article about the incident that was run in the Toronto Star.

Here is an
article with quotes from Norm Sharpe that ran in the University of Alberta student paper: The Gateway.
Here is a
picture and article about the incident that was run in the University of Toronto paper: The Varsity.

---
January 30, 1997: Saskatoon
Here are some concert reviews from somebody in Saskatoon January 30, 1997.
A later date.
An even later date.
March 21, 1997: Side Track Cafe, Edmonton
Here is a review of a March 21, 1996 performance at Edmonton's Side Track Cafe.
---
Go Back to Wide World of Wide Mouth Mason